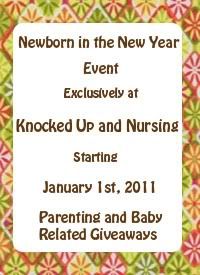 Knocked Up and Nursing is hosting Newborn in the New Year event starting January 1, 2011. There will be some wonderful reviews and giveaways of Parenting and Baby related products.
So far we have some great cloth diaper sponsors lined up. Newborn in the New Year is scheduled to run for a month but may be extended.
If you are interested in being a sponsor in this event, please contact me at knockedupandnursing@gmail.com. I'd love to have you!
Extra Entries:
Post the above button on your blog for 5 extra entries into ALL Newborn in the New Year giveaways. You must post the button before December 31st, 2010. Leave a URL.
Blog about this event for 3 extra entries.
Post all comments on this post. You will be responsible for transferring extra entries.