In 2009 a home based online store of natural living items was founded in Sioux Falls, South Dakota. Offering natural soaps and cleaners, wool and PUL diaper covers, cloth diapering accessories, wool dryer balls and matching woolies and shirt sets,
TerraMade Products
is your one stop cloth diapering shop. TerraMade firmly believes in supporting Fair Trade practices and Work at Home Moms. All of the products that TerraMade carries are proudly made in the USA.


If this baby in my belly is a girl, so help me, she will wear nothing but skirties!!! These are hand-dyed with home grown grapes and embroidered with sweet little pink flowers on the edge.




These capri shorties are made from 100% recycled wool.



TerraMade Products also sells Knickernappies items.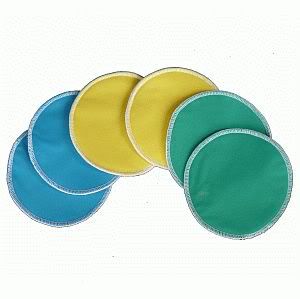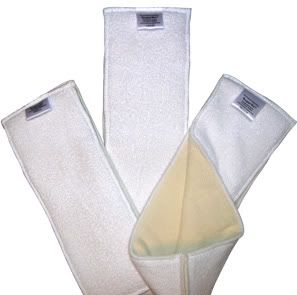 The Review:
Our Experience:
TerraMade Products sent me a set of 2 cloth wipes to review. These cloth wipes are the perfect size (8"x 8") for cleaning up any mess. When they first arrived, my daughter claimed one of them for herself. She likes to use cloth wipes as tissues and these were just her style. The print was of birds and flowers with bright vivid colors on terry cloth. This was my first time using terry cloth wipes. I have flannel and mircofiber ones but had never tried terry cloth. I have to say, I'm amazed at how well the little tiny fibers pick up mess. These are my favorite wipes for cleaning up poo. I always try to keep them reserved for that.

Materials:
100% upcycled cotton terry cloth
Cost:
$6 for a set of 6
Overall Opinion:
These wipes are great for the whole family. My daughter loves to carry this one around to use as her "hankie". My husband and I love them for their ability to handle any kind of mess. Great quality and a great price! Go get some now!
Buy it
: You can purchase these
cloth wipes
from
TerraMade Products
for $6.
You can also check out their other
website
.
I'd like to thank Terra for participating the A Merry Fluffy Christmas! TerraMade Products has contributed a set of cloth wipes to the event. Keep an eye out December 1-5th for a prize package containing TerraMade's products!
Extra Entries:
For extra entries into ANY
A Merry Fluffy Christmas
giveaway:
Leave a comment on this post for each item you did below and leave your email address.
I will keep track on all entries and enter them at the end of all A Merry Fluffy Christmas giveaways.
1. "Like" TerraMade Products on
Facebook
.
2. Add the TerraMade Products
Hyena Cart store
as a favorite.
3. Follow TerraMade Products on
Twitter.